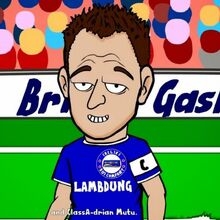 Schlong Terry is a defender and plays for Astonishingly Bad Villa former captain, former Chelsea FC player former player of Engbland.
Character
Edit
Schlong Terry is known on 442oons for talking about people's wives and sleeping with them. In Jose's Bus Episode he mentioned sleeping with everyone's wives but was met with a punch in the face by Bernieslaven Ivanitch. He is similar to Tryiton Giggsy.
442oons Career
Edit
Schlong Terry has often appeared on many 442oons videos. He scored vs Tottenham Hotseat in the We know sweet FA League Cup at Wembley and mentioned how he got compensation after his slip at work (his failed penalty vs Manchesthair United in 2008) being the phone numbers of all the Chelsea WAGs. Also, he admitted his legs had gone on the bus tour.